Everyone knows that a little rainy weather makes for great reading.  You have the fireplace crackling, soft blanket tucked around you and the rhythmic sound of rain beating on the roof.   But there is also too much of a good thing.  In other words, sometimes when it rains…it pours.
In my case, it was Hurricane Sandy.  Almost everyone assumed that it would fizzle by the time it hit the NJ coast because they were assuming it would be another Hurricane Irene. HUGE MISTAKE.
Remember the movie Perfect Storm? It was based on the hurricane that hit in 92. Well Hurricane Sandy now holds the title for the Perfect Storm. The Jersey Shore coast was devastated by the hurricane. A lot of my favorite places are gone.  Boardwalks and piers were washed away in Sandy's furry.  A Ferris Wheel that was on one of the boardwalks is now somewhere in the Atlantic Ocean.
My home was without power for nine days. I got power back and lost it again when Nor'Easter Athena hit.  There was damage to the roof and side of my house.  I stayed in my home and it was actually colder in the house than it was outside.  At least it seemed that way.  I didn't want to leave my home because there has been a lot of looting going on.  I was lucky because two years ago, I lived in one of the towns that was severely damaged by Sandy.  If I was still living there, I would have lost everything.
Times of crisis, particularly natural events encourage people to strengthen their faith, look for inspiration and pray for a better tomorrow.  For me, it is times like this that reading inspirational romance is the perfect choice for reading.  A little hope in mankind to keep the soul going…and a little romance to escape into…
I knew that there was a chance that I might lose power, so I made sure my Kindle Fire had books on them to read.  Here is my Hurricane Reading List:
 The Bridal Veil Island Series
By: Tracie Peterson and Judith Miller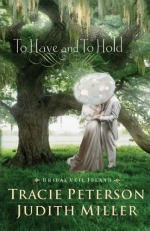 To Have and To Hold
When Audrey Cunningham's father proposes that they move to Bridal Veil Island, where he grew up, she agrees, thinking this will help keep him sober and close to God. But they arrive to find wealthy investors buying up land to build a grand resort on the secluded island–and they want the Cunninghams' acreage.
Contractor Marshall Graham can't imagine why the former drinking buddy of his deceased father would beckon him to Bridal Veil Island. And when Boyd Cunningham asks him to watch over Audrey, Marshall is even more confused. He has no desire to be saddled with caring for this fiery young woman who is openly hostile toward him.
But when Audrey seems to be falling for another man–one who has two little girls Audrey adores–Marshall realizes she holds more of his heart than he realized.
Which man will Audrey choose? And can she hold on to her ancestral property in the face of overwhelming odds?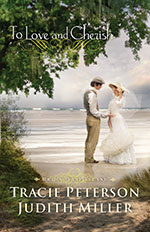 To Love and Cherish
When Melinda Colson's employer announces they'll be leaving Bridal Veil Island to return to their home in Cleveland, Melinda hopes her beau, Evan, will propose. But Evan isn't prepared to make an offer of marriage until he knows he can support a wife and family. Evan works as the assistant gamekeeper on Bridal Veil but hopes to be promoted soon.
Letters strengthen their love, but Melinda remains frustrated at being apart from the man she wants to spend the rest of her life with. Then she learns of a devastating hurricane in Bridal Veil and knows she must give up her position as a lady's maid and make her way back to Evan.
The destruction on Bridal Veil is extensive, meaning every available person is needed to help with cleanup and repairs. Melinda finds a new job on the island, but Evan seems even busier than before, meaning she still never gets to see him. Has she given her heart to the wrong man?
And when Melinda overhears a vicious plot against President McKinley, who is scheduled to visit the island, is Evan the one she should turn to? Will Melinda and Evan ever get the chance to stand at the front of a church and promise "to love and cherish"?
A Change of Fortune
By: Jen Turano
Lady Eliza Sumner is on a mission. Her fortune was the last thing she had left after losing her father, her fiance, and her faith. Now, masquerading as Miss Eliza Sumner governess-at-large, she's determined to find the man who ran off with her fortune, reclaim the money, and head straight back to London.
Mr. Hamilton Beckett, much to his chagrin, is the catch of the season, and all the eyes of New York society–all the female ones, at least–are on him. He has no plans to marry again, especially since his hands are full keeping his business afloat while raising his two children alone.
Eliza's hapless attempts to regain her fortune unexpectedly put her right in Hamilton's path. The discovery of a common nemesis causes them to join forces and, before she knows it, Eliza has a whole retinue of people helping her. Eliza's determination not to trust anyone weakens when everyone's antics and bumbling efforts to assist her make her wonder if there might be more important things than her fortune and independence.
When all of Hamilton's and Eliza's best-laid plans fall by the wayside, it will take a riot of complications for them to realize that God just might have had a better plan in mind all along.
A Promise to Love
By: Serena B. Miller
Can a marriage of convenience ever become one of true love?
Ingrid Larsen arrives in Michigan in 1871 with little more than the clothes on her back and a determination to find her brother, who has disappeared into the dangerous lumber camps. Destitute and barely hanging on to hope, the young Swedish immigrant crosses paths with Joshua Hunter, a newly widowed farmer with eyes the color of the ocean she had crossed and five rambunctious children to raise on his own.
Marriage would solve both of their problems, and Ingrid finds herself proposing in broken English to a man she barely knows. Many difficulties lie ahead–but the hardest battle of all will be winning the heart of her new husband.
I can keep going with the list.  I may post a more extensive one on my personal blog.  Point is, you should have books to read when a storm comes into your life.
If it weren't for my Kindle and paperbacks, I would have had severe cabin fever.  I want to say during the time I went without power, I probably read close to twelve books total.  Yes, I'm a fast reader.
So my question to you is this: What's on your reading list when a storm comes into your life?
Caitlin H, Intern.